---
"People need leaders to take them to places that they would otherwise never go."
Tulsa World 2015 Men of Distinction
Amazon Best Selling Author | October 2015
Guinness Book of World Records | World's Largest Sweet Tea | August 2010
Guinness Book of World Records | World's Largest Lemonade | August 2008
The Little Light House Board of Directors  (4 year term)
The Tulsa Christmas Parade Board
The Little Lighthouse Shining Light Award
Multiple Chick-fil-A Highest Sales Increase Award
Multiple time winner of Chick-fil-A Symbol of Success Award
Arthur earned his BA in Commercial Art from Oral Roberts University in 1991. After graduating, he mentored several students from ORU and is still involved in various capacities.
Guinness Book of World Record Achievements
---
World's Largest Sweet Tea
Aug 4, 2010 | Nienhuis Park | Tulsa, OK
912 gallons of tea in a 9 ft tall cup! It was made with 57 lbs of Chick-fil-A tea, 1,150 lbs of sugar, and 2,000 lbs of ice.
The World's Largest Lemonade
(Guinness: The World's Largest Soft Drink)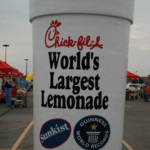 "No hazy August afternoon would be complete without a chilled pint of fresh, hand-squeezed lemonade. Oklahoman restaurant-owner Arthur Greeno was not satisfied with just one cup of the popular beverage, however. He was determined to sweeten up the United States' "National Lemonade Day" on 20 August 2008 by turning 11,730 lemons into 3,791.4 litres (834 gal) of world-class refreshment…" Read more…
---
---
OK, so it may not be official, but it was a huge snow cone!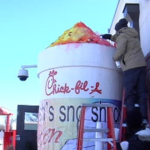 "Some Tulsans are getting a much-needed taste of summer. Chick-Fil-A and Josh's Sno Shack teamed up to try and create the world's largest shaved ice Thursday near 71st and Garnett. "We're calling it shaved ice because if you look at the records, everyone calls their's snow cones, so we thought maybe on a technicality we can say we're making the world's biggest shaved ice," Josh Juarez, owner of Josh's Sno Shack, said. The Sno Shack took the fresh snow, put it into ice coolers, and then shaved it. The creation stood 13-feet tall." Read more…
Arthur was truly a delight to have as our speaker. We are a tough crowd with a room full of no-nonsense small business owners and Arthur navigated perfectly. We struggle with hiring and training good people in the current job market and Arthur really gave us a shot in the arm with actual tangible tools to use in our search for the perfect crew. You can tell he has been the trenches for many years working to achieve the success he is enjoying. Great job Arthur.
Greg Byler | Iguana Wash, New Orleans, LA
Arthur did a fantastic job at the Young Businessmen of Tulsa luncheon. We had our biggest crowd to date! Our guests were extremely excited to hear Arthur! Thank you for making our January luncheon our best one yet!
Matt Moore | President, The Young Businessmen of Tulsa
Arthur Greeno spoke at our church banquet and was an immediate hit. Of course, Arthur was early to meet people as they entered the room. He also stayed to visit with anyone that had any questions and to sign autographs. When his time came to speak his promotional items and give-aways quickly captured everyone's attention. Arthur has an amazing personal story that will relate to everyone in any audience. A young teenage boy in an unstable and dysfunctional family, a Youth Minister who encouraged him and a loving God who directed his steps. Of course, Chick-fil-A has helped make Arthur a success, mentor, hero and an inspiring example. Our people went from crying to laughing with some of the same stories. Arthur Greeno is not only a powerful and personal speaker – he is also the real deal!
Scott Morie | Pastor
I'd highly recommend Arthur to speak at any event that you're wanting an exciting, funny, encouraging, and inspiring message to be heard. You won't be disappointed!
Tom G | New Life Ranch, Harriet, AR
I highly recommend Arthur Greeno as guest speaker for a business conference. Arthur was the Keynote speaker at my company's annual conference in Tulsa in April 2013. This was a 33rd annual conference and Arthur's speech was one of the best. In the weeks leading up to the conference, Arthur and I exchanged emails and spoke on the phone a couple of times. Although he had no real knowledge of my business, which is software for Higher Education, he and I both share a passion for customer service. Arthur has excellent communication skills. In addition, he was on-time, professional, aware of who is audience was and made an effort to relate to his audience. His speech included a short video presentation that was very effective. Arthur has a gift for humor. But the thing about Arthur's humor is that it is not at the expense of others but is self-deprecating. It's always better to make fun of yourself and not others. Arthur has my highest recommendation as a keynote speaker for any business or organization's next conference.
Randy Thomas | President, Educational Systems Products, Inc