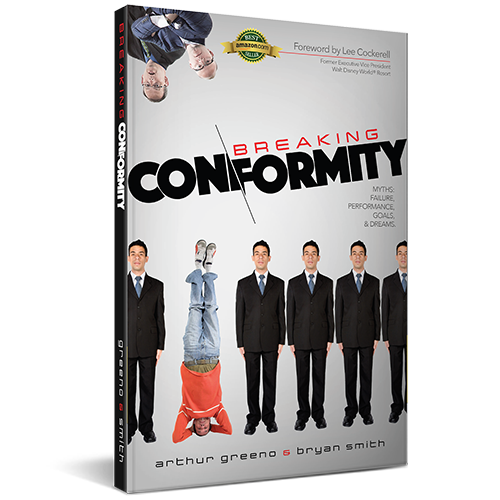 Breaking Conformity
Does it make you nervous to think that many of the things you have learned in your life are wrong? Learn how to break those myths in business to succeed and surpass your goals! Breaking Conformity made the Amazon Best Seller List on launch day.
"The difference between a dream and a nightmare is in your head.  If you think you can, you will.  If you think you can't, you won't.  Leaders are readers… Read this book, study it and reflect on how you need to stop believing every myth and start believing in yourself.
Lee Cockerell
Former Executive Vice President | Walt Disney World® Resort
 All proceeds of Dysfunctional Inspiration and Breaking Conformity go to support The Greeno Family Foundation and other non-profit organizations.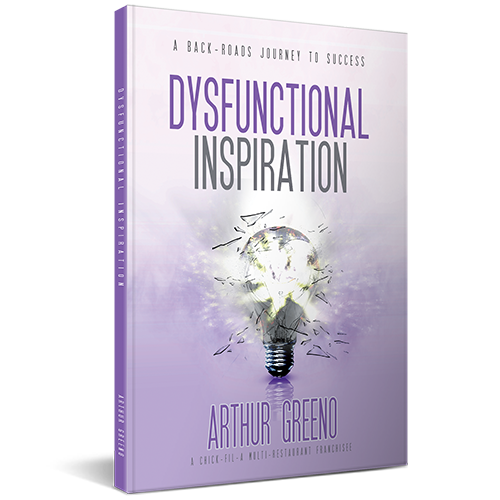 Dysfunctional Inspiration
"Arthur Greeno ran in from the cool Wisconsin air at Silver Birch Ranch to take a call from his mother. He had been at camp for a week enjoying horseback riding, outdoor sports, swimming and most of all, being away from home – everything a 14 year-old-boy dreams of. This was all about to change. His mother called to let him know that the family was moving. Again. "No big deal," he thought, "just another house." Not exactly. His family picked up and moved 600 miles across the country while he was at camp. He had no idea what kind of home he would be returning to. Or, more importantly, how he would get there. After camp, Arthur had to hop on a Greyhound bus from Chicago, Illinois to Tulsa, Oklahoma all by himself. Little did he know that what he would find on that bus would lead him to overcome his childhood hardships, physical restrictions and loneliness, changing him forever and leading him to become a successful business owner, grateful father and loving husband."
This is a fun, funny, easy-to-read book which is highly inspiring!
Dr. David Frisbee
Family Counselor and best-selling author


Arthur has an amazing story – and you won't be able to put down his book!
Michael D. Butler
Co-Founder of The Venture Network


Arthur is one of the most creative and enthusiastic people I know!
Anthony Agostino
VP of Strategic Business Development, Switchgear Search and Recruiting